Carmel, California, is about 120 miles south of San Francisco along the coastline and boasts a population of 3,803 in an area that covers just about one mile. Its official name is Carmel-by-the-Sea, but locals and visitors refer to this rustic, charming hideaway simply as Carmel. It's home to several California missions and a thriving artist's colony.
Many Hollywood A-Listers favor the tiny beach resort for its rural atmosphere and relaxed lifestyle, opposite the demands and pace of living in or near Hollywood. In fact, Academy Award-winning actor and director Clint Eastwood even served as its mayor in the late 1980s, and former and present celebrities include the late actress Betty White, the late Pulitzer Prize-winning author John Steinbeck, and singer-songwriter Paul Anka of My Way fame.
Carmel is both delightfully charming and quirky at the same time. It's dog-friendly, and many establishments allow guests and customers to bring their four-legged friends inside. But whether or not you're leading Snoopy into a hotel or a café for a biscuit, make sure you're not wearing high-heeled shoes. The city prohibits people from wearing shoes with heels higher than two inches without a permit. Why? To prevent lawsuits due to trips and falls caused by uneven pavements! Additionally, there are no addresses, street lights, sidewalks, or parking meters beyond the borders of the downtown commercial area.
Homeowners contemplating Carmel real estate are in for potential bidding wars in the current marketplace. Healthy median household incomes of about $98,200 belie median home prices, which have increased threefold in the last year. In December 2021, homes for sale in Carmel sold for a median price of $19,500,000—compared to $4,297,000 in 2020—within 139 days of listing. It's currently a seller's market, indicating that housing availability is scarce, with more buyers than properties.
Not only does Carmel-by-the-Sea entice new residents with its privacy, exclusivity, and small-town feel that harkens back to "the good old days," there are miles of beaches to bring folks back to nature. Carmel, Pacific Grove, and Monterey are the three major towns on the Monterey Peninsula, and all have majestic beaches with activities, scenery, and wildlife to please all. While the weather along the Northern California coastline is generally cool and overcast for much of the year, and the Pacific Ocean is always chilly, area beaches offer many activities outside of swimming or surfing. Here are some pristine examples of the best beaches in the neighborhood.
Carmel City Beach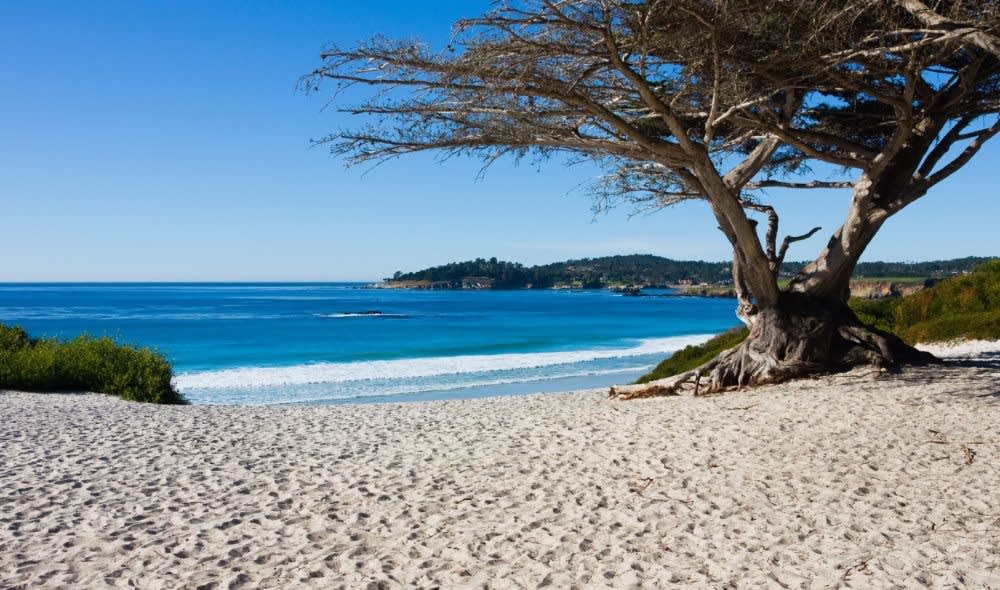 Carmel City Beach is a one-mile-long, white sand beach found in a section of coastline that's often cool and cloudy. However, it's an ideal spot for sunbathing when the sun rears its head and the perfect destination for a bonfire when the weather turns cool. Dogs are allowed off-leash, and bird fanciers can visit the bird sanctuary in a lagoon with views of the Monterey Bay National Marine Sanctuary — a federal marine protected area (MPA).
Garrapata State Parke
Garrapata State Park also boasts views of the Monterey Bay National Marine Sanctuary, but you'll have to navigate a 50-foot climb to reach the best viewing point. The park boasts two miles of beachfront, ideal for coastal hiking. Many hiking and walking trails lead from the beach into dense groves of majestic redwood trees. Animal lovers can observe sea lions, harbor seals, sea otters, brown pelicans, and California gray whales, who pass through the cold waters during their annual migration. Homes for sale in Carmel come with the instant "nature's amenities" that its beaches provide, even if those homes aren't beachfront property.
Pebble Beach
Just mention the name "Pebble Beach" and images of golf's greatest legends—Jack Nicklaus, Arnold Palmer, and Tiger Woods, to name a few—who have made golfing history at The Pebble Beach Resort golf course come to mind. However, that's not all Pebble Beach is known for.
The Del Monte Forest surrounds the area and stretches to the Monterey Peninsula. Nature enthusiasts can drive along the 17-Mile Drive and view rocky coastal cliffs and luxurious beachfront homes, including a Carmel real estate showpiece dubbed "Wit's End," a historic, Spanish Colonial home overlooking the 13th green at Pebble Beach Golf Links. You'll find the iconic "Lone Cypress," a single cypress tree that stands on a rocky outcropping where the beach meets the ocean.
Point Lobos Cove State Natural Reserve (SNR)-Whalers Cove
Whalers Cove is the northern beach in Point Lobos State Natural Reserve (SNR) and is the go-to spot for scuba diving enthusiasts. The Cabin, built in the 1850s by shipwrecked fishermen from China, has been converted into a cultural history museum. Joining the original settlers were Japanese and Portuguese immigrants who settled in the area. The cove also sports a kelp forest, where visitors can view rockfish, seals, and playful sea otters.
Point Lobos Cove State Natural Reserve (SNR)-Sea Lion Cove
Sea Lion Cove at Point Lobos State Natural Reserve is a pristine viewing location for local whale watching and observing other wildlife. It consists of a cove with a pebbled beach and offers views of whales during migration season, sea otters, sea lions, and other wildlife. Hikers can immerse themselves in nature to their heart's content along the many hiking trails within the cove. Reaching the Sea Lion Cove requires a short hike on two trails: Sand Hill Trail or Sea Lion Point Trail, but the views and surroundings are worth the effort.
Carmel-by-the-Sea is experiencing an unprecedented, robust seller's market, but that doesn't mean your next home is out of reach. When you work with one of the experienced local realtors at Carmel Coast Realty, you can find a home for sale in Carmel that's perfect for you. Contact the team today to get started!